I will try to make this as short as possible and the chances for a below average summer are higher than an average or an above average summer IMO.
The CPC has declared La Nina dead in the water and we are currently experiencing ENSO neutral conditions not that it means a hill of beans for our summer forecast though. With the lack of a strong LaNina or El Nino... ENSO will have little effect on our summer but it could have a late effect on Hurricane season but that's a whole other outlook.
Now...we have been in what I like to call a variable ridge pattern and this is now showing signs of deterioration. A variable ridge pattern is where the pattern is very transient in nature but you can tell that there is more time under a ridge than a trough... hence the above normal Winter and Spring that we have had.
Recently there has been a Greenland Block develop and the old NAO has finally went negative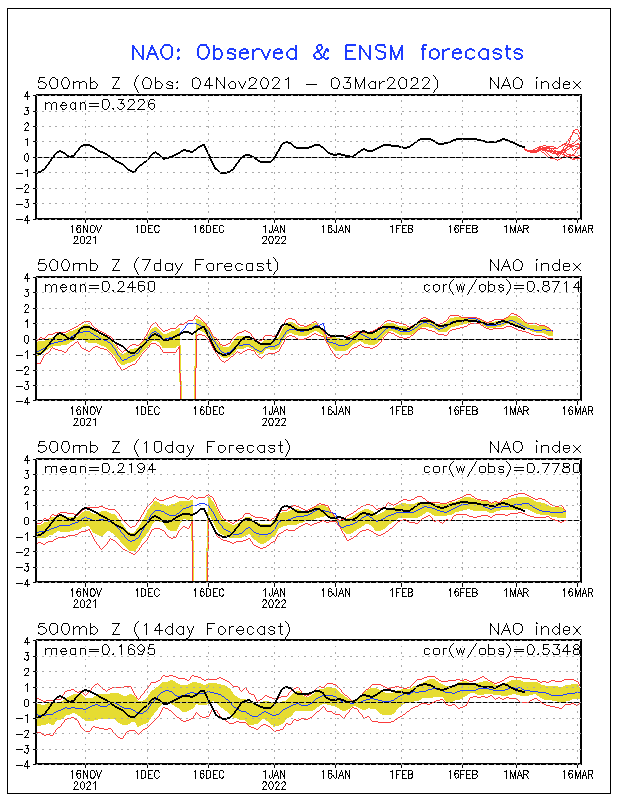 That will keep a trough near the Ohio valley and it will also work to try an keep our high temps in check
I expect a warmer than normal summer out toward the Rockies and in the Northeastern US... while the OH and TN valleys remain near or below normal.
The SOI index suggests that El Nino will be on the rise during summer and it is the SOI that I have taken a few analog years from.
My top analog is the summer of 1971
Summer of 1967 also shows up as a strong analog on the SOI index
The summer of 2008 is about the only wild card keeping me from saying it will definately be below normal
So I think the chances are greater for a below normal summer than they are for an average or above average summer but hell its TN and any summer is HOTTTT..lol
If you have any questions on how I came to these conclusions or just a random question...ask and I will try to answer

Last edited by Toot on 2012-06-25, 10:18 pm; edited 3 times in total
Very interesting, thanks for putting that together Toot.
Founding Member




Posts

: 4148


Join date

: 2011-12-05


Age

: 43


Location

: Knoxville, TN




_________________
Happy Holidays!!!
Admin




Posts

: 745


Join date

: 2011-12-05


Location

: Maryville, TN



Well by golly, hello -NAO. I haven't looked at the NAO since late winter but looking at it now, that is a pretty amazing run of +NAO. I remember Toot and I having a lengthy discussion back in the fall about the state of the NAO. I was a little more pessimistic and he was a little more optimistic. In the end we both were wrong. Imagine that.
Winter Specialist




Posts

: 855


Join date

: 2011-12-14


Age

: 41


Location

: Mount Juliet, TN



Thanks yall...The NAO went negative back in April and there was that monster noreaster...look for a big coastal type low again in the next week or so
Good write up Toot! I believe you're on the right track. I think we'll see intervals of hot weather thrown in with "cooler" spells. It most likely won't be similar to the last two summers where the hot weather moved in and pretty much stayed all summer (thanks in part to La Nina and a persistent subtropical high).

One of those cooler spells coming next week, in fact, with highs in the lower to mid 70's from Tuesday through the rest of the week. A very welcome change from these mid/upper 80's.
Founding Member




Posts

: 812


Join date

: 2012-03-27


Age

: 47


Location

: East Sevier County, TN



What about Rain chances? This maybe too hard to guess at. Thanks.
Member




Posts

: 367


Join date

: 2012-04-10


Age

: 44


Location

: North Knox County



VFL wrote:What about Rain chances? This maybe too hard to guess at. Thanks.
With troughs and zonal flow to be the expected dominant regimes....precip should be average to above average. This paramater is highly dependant on mesoscale features during the summer season though (MCS's pop up T-storms etc..) which are literally unpredictable unless they are happening...which is why I didnt include it in the outlook. That said... drought shouldnt be a problem here in TN with the expected pattern but I could see how western areas of the state get a little on the dry side

---
Permissions in this forum:
You
cannot
reply to topics in this forum