Since November is coming up..and the upcoming pattern to do with sandy is so similar.. I will be doing an in depth study of this storm in my free time for the next month or so. That means this post of this thread is a work in progress!
Here is the wiki article on this storm which is a great resource for this storm!
http://en.wikipedia.org/wiki/Great_Appalachian_Storm_of_November_1950
----------------------------------------------------------------------------------------------
The Great Appalachain Storm of 1950
It seems as if this storm was born as a new area of low pressure along a strong cold front of a lakes cutting low pressure system. The evolution of the GAS of 1950 is very smilar to that of a Miller B type storm in regards to secondary cyclogenesis. There was a strong blocking area of high pressure providing a source of cold air centered in the Labrador region up in Canada. This area of high pressure also seemed to steer the storm westward which is not the norm for these type of systems! This storm also went into a deepening phase as it retrograded westward into the Great lakes region where it became cuttoff from the jet stream. It set in this region for several days fetching cold air and snow hundres of miles to the storm's southeast!
Here is an image of some snowfall totals..As you can see Nashville Tennessee even recieved about 7 inches of snow during this storm.
Here is the source for that image
http://docs.lib.noaa.gov/rescue/mwr/078/mwr-078-11-0204.pdf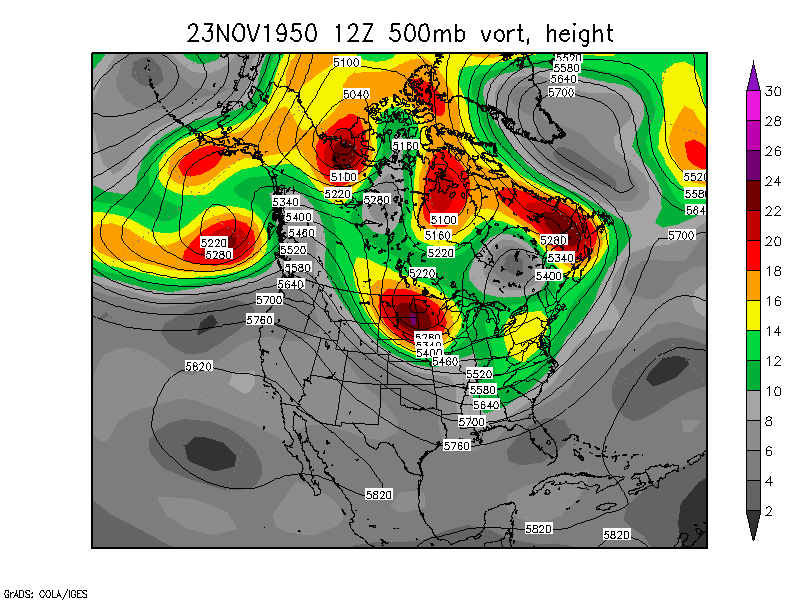 Here is an animated gif I made out of old Penciled in radar/surface data
from historic NOAA images. If you cant tell there is critical data missing in each image...this was before digital movies you know..lol
I will be adding more in depth synoptic research to this thread when I get time over the next month or so.
Last edited by Toot on 2012-11-10, 1:31 pm; edited 2 times in total
La Vida Loca




Posts

: 6644


Join date

: 2011-12-05


Location

: Cocke County, TN



Cool, I look forward to these type threads. Nice work so far!
Founding Member




Posts

: 4148


Join date

: 2011-12-05


Age

: 42


Location

: Knoxville, TN




---
Permissions in this forum:
You
cannot
reply to topics in this forum