Since the circumpolar vortex, or polar vortex determines how much cold air is available and where that air goes, I was wondering to what extent possible could it be dislodged to the south. I know I was watching an old video once where Joe Bastardi (yeah, yeah, I know everyone's whipping boy) was taking about an outbreak of arctic air that, at that time, I think it was 09' might rival Jan' 85. He said the PV was coming into the N US at that time, but that in Jan. 85, it actually set up over TN and KY!! With knoxville dropping to -26 or so degrees, I guess that makes sense. I was just curious how many other times the pv has dropped into the US, esp. The eastern or southern areas, as that is evidently what one needs to experience historic events of this nature.
Last edited by Jed33 on 2012-12-06, 1:10 pm; edited 1 time in total (Reason for editing : Spelling)
I doubt it can go further south than it did in 1985


Winter Specialist




Posts

: 743


Join date

: 2011-12-19



Here's 1985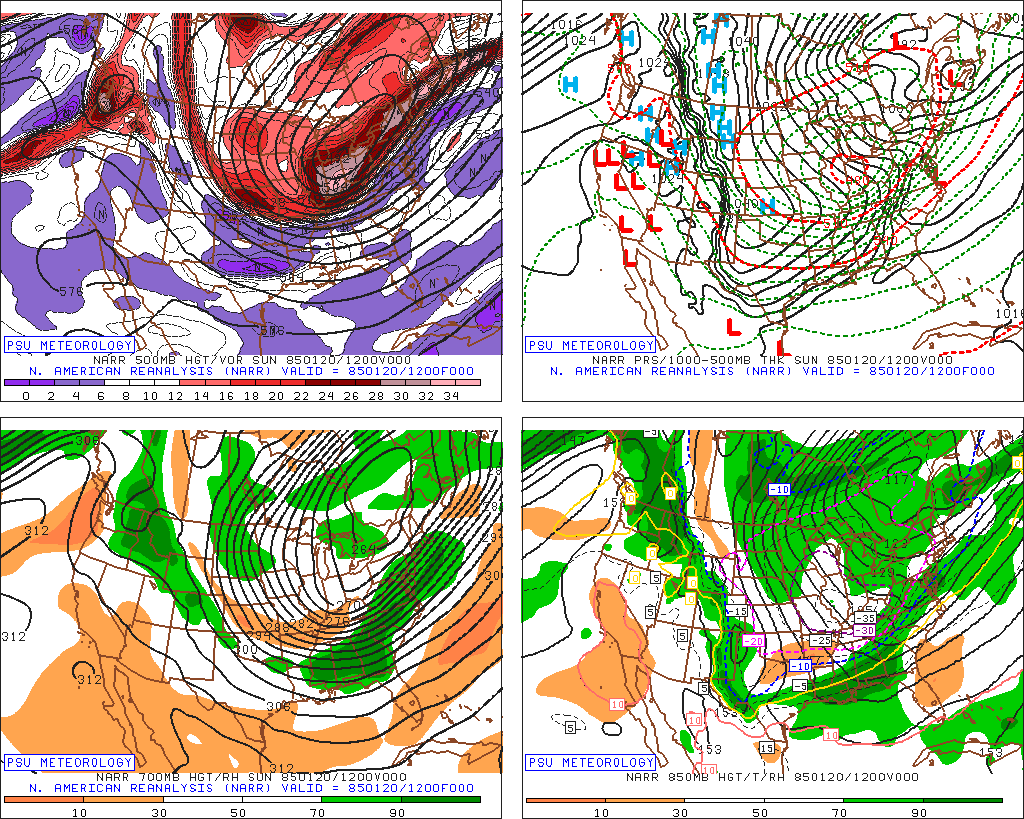 Winter Specialist




Posts

: 743


Join date

: 2011-12-19



Lol imagine if it went south enough and got stuck somehow and we never left winter. We become the new north pole

Founding Member




Posts

: 313


Join date

: 2011-12-06


Age

: 26


Location

: tennessee Wilson county Ne Corner



Lol, I don't want it to become stuck anywhere in the US for more than 3-4 weeks. Don't think I'd want to become a permanent tundra/frozen wasteland. However, I wouldn't mind a repeat of '85 or something like that now that I live in TN. It would be interesting in a way to experience -20+ below zero for once. I lived in N MS at the time, and we dropped to -11 during this time. Had a high temp of 6 degrees on one day, and dropped below zero again at night the second night. We were right on the Southern end of the heavy frozen precip., but I remember thunder sleet and snow that night. We ended up with about 2 inches of freezing rain, 3 inches of sleet on top of that, and about 2 inches of snow on top of that, while just 25 miles N of us was ALL snow, at around a foot deep! We were out of school for 2 weeks, all during my birthday! One of my favorites for sure
Im with Mundie on this one..im not sure it could get any further south unless the poles started shifting
Just to give an idea what it Jan 85 looks like on a NH 500mb graphic here is one I created real quick over at teh ESRL PSD site.
Jan 20th 1985
Its definately possible to see that setup again and its also possible for the PV to stick around longer than the 85 one did. Not saying anything like that is going to happen anytime soon
La Vida Loca




Posts

: 6644


Join date

: 2011-12-05


Location

: Cocke County, TN



Wow, yeah, that's something else right there! Crazy how that whole event came about! It would be cool to see it happen again in one sense, but then again, we probably aren't ready or equipped for that kind of cold. The toll it would put on water lines, houses, cars, not to mention pets, people, animals, plants, trees, etc...i'm not sure it would be something i'd want to see happen

---
Permissions in this forum:
You
cannot
reply to topics in this forum